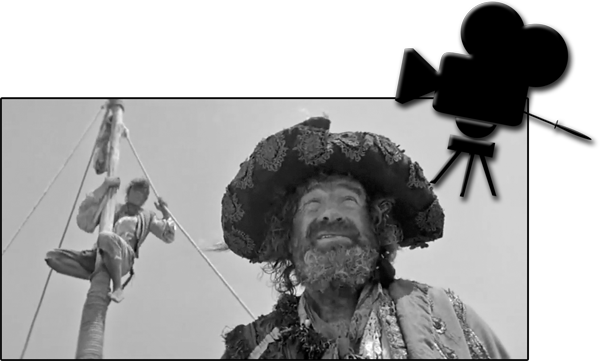 Les pirates au cinéma
284 films
Aucune "Histoire du Film des Pirates" n'a été écrite à ce jour, mais je vais faire en sorte de parler dans ce site des films existants. Je vais sûrement en oublier, mais ceux ayant eu le plus de succès sont cités.
Sur cette page : Les prochains films qui sortiront au cinéma et une liste de 284 films de pirates & corsaires.
En fin de page, voir les projets de films à venir.
Voir aussi :
» Les pirates et corsaires en séries TV
» Les téléfilms et documentaires de pirates et corsaires
» Pour de plus amples informations à propos des films de pirates, venez discuter sur le forum des écumeurs des mers dans la rubrique "le coin du cinéphile"
Filmographie

Film
Réalisateur(s)
Année
Bhoot Unkle
Mukesh Saigal
?
The Bluff
Frank E. Flowers
?
Johnny Kidd
Thadd Turner
?
Captain Smith A New Beginning
Jeff Smith
?
The Modern Ocean
Shane Carruth
?
Peter Pan Begins
Joe Roth
?
Pirates des Caraïbes 6 : ( titre non définit )
Joachim Rønning
2023
Jack Mimoun et les secrets de Val Verde
Ludovic Colbeau-Justin, Malik Bentalha
2022
Le monstre des mers
( The Sea Beast )
Chris Williams
2022
The Pirates : A Nous Le Trésor Royal !
( The Pirates: The Last Royal Treasure )
Kim Jeong-hoon
2022
The Abode
Claudia La Bianca
2022
Peter Pan & Wendy
David Lowery
2022
Uncharted
Ruben Fleischer
2022
Fena: Pirate Princess
Kaizoku Oujo
2021
The Last Pirate
Christian Pavlik
2020
De Piraten van Hiernaast
Pim van Hoeve
2020
Kings of the Atlantic
Michael Fredianelli
2020
Capitaine Dent de Sabre et le diamant magique
( Kaptein Sabeltann og den magiske diamant )
Marit Moum Aune, Rasmus A. Sivertsen
2019
The Pirates of Somalia
Bryan Buckley
2017
Lego Scooby-Doo : Mystère sur la plage
Ethan Spaulding
2017
Pirates des Caraïbes 5 : La Vengeance de Salazar
( Dead Men Tell No Tales )
» Plus d'informations dans le Forum
Joachim Rønning, Espen Sandberg
2017
The Pirates of Somalia
Bryan Buckley
2017
The Swan Princess: Princess Tomorrow, Pirate Today
Richard Rich
2016
Mickey Matson 2: Le code des pirates( Pirate's Code: The Adventures of Mickey Matson )
Harold Cronk
2015
Pan
Joe Wright
2015
Beethoven : le trésor des pirates
Ron Oliver
2014
Hae-jeok: Ba-da-ro gan san-jeok
Seok-hoon Lee
2014
Capitaine Dent de Sabre - Le trésor de Lama Rama
( Kaptein Sabeltann og skatten i Lama Rama )
John Andreas Andersen, Lisa Marie Gamlem
2014
Clochette et la Fée Pirate
Walt Disney
2014
Le Club des Cinq : l'île aux pirates
Mike Marzuk
2014
Marco Macaco : l'île aux pirates
(inconnu)
2014
Captain Phillips
Paul Greengrass
2013
Albator - le corsaire de l'espace
( Space Pirate: Captain Harlock )
» Plus d'informations dans le Forum
Shinji Aramaki
2013
The Return of Captain Kidd
Kern Konwiser
2013
Barbe Noire
( Blackbeard )
Barry Josephson
2013
Selkirk, le véritable Robinson Crusoé
( - Seven seas pirates
- Selkirk, el verdadero Robinson Crusoe )
Walter Tournier
2012
Astérix et Obélix : Au service de Sa Majesté
(adapté de Astérix chez les Bretons, et chez les Normands)
Laurent Tirard (Avec Gérard Jugnot dans le rôle du Capitaine des pirates)
2012
Les Pirates ! Bons à rien, Mauvais en tout
( The Pirates! Band of Misfits
Die Piraten - Ein Haufen merkwürdiger Typen
Os Piratas!
Piraterna!
The Pirates! In an Adventure with Scientists )
Peter Lord, Jeff Newitt
2012
Zarafa
Rémi Bezançon, Jean-Christophe Lie
2012
Part-Time Pirates
Frank Coraci
2012
Le capitaine et son pirate
Stefanie Brockhaus, Andy Wolff
2012
Dieu aime le caviar
( - God loves caviar
- The pirate )
Yannis Smaragdis
2012
One Piece, Strong World
Munehisa Sakai sur une idée originale de Eiichiro Oda
2011
L'Epée et la Rose
Joao Nicolau
2011
Pirates des Caraïbes 4 : la Fontaine de Jouvence
( Pirates of the Caribbean : On Stranger Tides )
» Plus d'informations dans le Forum
Rob Marshall
2011
Tintin et le secret de la Licorne
( The Adventures of Tintin : Secret of the Unicorn )
Steven Spielberg
2011
Captain Blood
Phillip Noyce
2011
Isaac le Pirate
Christophe Blain (production Autochenille)
2011
L'île au Trésor
( Treasure Island )
Paul Greengrass, Douglas Rae, Robert Bernstein
2011
The Trouble with Pirates
James Rogan
2010
Sauvez Willy 4 : Le Repere Des Pirates
( Free Willy 4: Escape from Pirate's Cove )
Will Geiger
2010
One Piece : strong World
Munehisa Sakai
2009
Red Gallion : la légende du corsaire rouge
( 12 Meter ohne Kopf )
Sven Taddicken
2009
Playmobil : le trésor de l'île aux pirates
Alexander E. Sokoloff
2009
Watchmen - Les contes du Vaisseau Noir
( Tales of the Black Freighter )
Mike Smith, Daniel DelPurgatorio
2009
Labou
Greg Aronowitz
2008
L'Amour de l'or
( Fool's Gold )
Andy Tennant
2008
Pirates De langkasuka
( Queens of Langkasuka / The Pirates of Langkasuka / The Tsunami Warrior / Legend of the Tsunami Warrior )
Nonzee Nimibutr
2008
L'île de Nim
Jennifer Flackett, Mark Levin
2008
Drôles de pirates
( Pirates à la noix / The Pirates Who Don't Do Anything : A VeggieTales Movie )
Mike Nawrocki, Phil Vischer
2008
Pirates II : Stagnetti's Revenge (X)
Joone Lewis
2008
L'ordre des Pirates - les seigneurs des mers
( Die Schatzinsel / La fille du pirate / Treasure Island )
Hansjörg Thurn
2007
Elizabeth The Golden Age
Shekhar Kapur
2007 (12 décembre en Angleterre)
(12 octobre au Canada)
Stardust, le mystère de l'étoile
( Stardust )
Matthew Vaughn
2007 (24 octobre)
Pirates of Ghost Island
Mitch Toles
2007 (septembre)
Pirates des Caraïbes 3 : Jusqu'au Bout du Monde
( Pirates of the Caribbean : At World's End )
Gore Verbinski
2007 (23 mai)
L'île aux Trésors
Alain Berberian
2007 (31 janvier)
Les Aventuriers du grand large
( De Scheepsjongens van Bontekoe )
Steven de Jong
2007
Pirates des Caraïbes 2 : Le Secret du Coffre Maudit
( Pirates of the Caribbean : Dead's Man Chest )
Gore Verbinski
2006 (11 juillet aux USA)
(2 août en France)
True Caribbean Pirates
Richard Dale
2006
Scooby-Doo! Pirates Ahoy!
Chuck Sheetz
2006
Pirates of the Great Salt Lake
E.R. Nelson, Nathan Phillips
2006
Tom et Jerry : la chasse au trésor
( Tom & Jerry Shiver Me Whiskers! )
E.R. Nelson, Nathan Phillips
2006
Le Trésor des Flibustiers
(Robert Louis Stevenson)
2005
Les Pirates du Pacifique
( Piratas del Pacifico / Piratas en el Callao )
Eduardo Schuldt
2005
Jolly Roger: Massacre at Cutter's Cove
Gary Jones
2005
Crossbones
Daniel Zirilli
2005
Pirates (X)
Joone Lewis
2005
Pirate Kids: Blackbeard's Lost Treasure
David Rotan
2004
En chantant derrière les paravents
( Cantando dietro i paraventi )
Ermanno Olmi
2004
Finding Neverland
Marc Forster
2004
Treasure island
Steve Miner
2003
Les Joyeux pirates de l'île au trésor
( Dôbutsu Takarajima )
Hiroshi Ikeda
2003
L'Ile de Black Mor
Jean-François Laguionie
2003
Master and commander : de l'autre côté du monde
( Master and commander : the far side of the world )
Peter Weir
2003 (31 décembre)
Sinbad - la légende des sept mers
( Sinbad: Legend of the Seven Seas )
Tim Johnson, Patrick Gilmore
2003
Peter Pan
P.J. Hogan
2003
Le Château dans le ciel
( Tenku no shiro Rapyuta )
Hayao Miyazaki
2003
15 janvier 2003 en France
1986 au Japon
Peter Pan 2, retour au Pays Imaginaire
( Return to Never Land )
Robin Budd
2002
Pirates des Caraïbes : La Malédiction du Black Pearl
( Pirates of the Caribbean: The Curse Of The Black Pearl )
Gore Verbinski
2002 - sortie en août 2003
La Planète au trésor, un nouvel univers( Treasure Planet )
Ron Clements and John Musker
2002
Le Nidouille - Le trésor du bateau pirate
Eric Cazes
2002
La Nounou et les pirates
( Choo-choo-2 / Tchou Tcha 2 )
Garri Bardine
2001
The Sea Wolf / Seawolf: The Pirate's Curse
Mark Roper
2001
Die Abrafaxe - Unter schwarzer Flagge
( The Pirates of Tortuga: Under the Black Flag
La leyenda del pirata Barbanegra
Abrafax i piraci z Karaibów )
Gerhard Hahn, Anthony Power
2001
Le Trésor du Pirate
( Lost Treasure of Sawtooth Island )
Richard Brauer
1999
Treasure island
Peter Rowe
1999
Pirates of the Plain
John R. Cherry III
1999
Mystic Nights and Pirate Fights
Doug Lively
1998
Les Naufragés du Pacifique
( The New Swiss Family Robinson )
Stewart Raffill
1997
Un Cri dans l'Océan
( Deep Rising )
Stephen Sommers
1997
Matusalem II - Le Dernier des Beauchesne
Roger Cantin
1997
L'île au trésor des Muppets
( Muppet Treasure Island )
Brian Henson
1996
l'Île aux pirates
( Cutthroat Island (US) l'Île des coupes-gorges (CA) )
R. Harlin
1995
Magic Island
Sam Irvin
1995
National Lampoon's Last Resort
Rafal Zielinski
1994
Il était une fois en Chine 5 : Docteur Wong et les pirates
( Once Upon A Time In China V )
Tsui Hark
1994
L'Ile au Trésor
( Treasure Island )
Raoul Ruiz
1994
Matusalem
Roger Cantin
1993
Captain Ron
Thom Eberhardt
1992
Hook ou la Revanche du Capitaine Crochet
( Hook )
Steven Spielberg
1991
Les naufragés de l'île aux pirates
( Shipwrecked )
Nils Gaup
1990
Treasure Island
F.C. Heston
1989
L'Île des pirates disparus
( George's Island )
P. Donovan
1989
Les Nouvelles Aventures De Fifi Brindacier
( The New Adventures of Pippi Longstocking )
Ken Annakin
1988
The Princess bride
Rob Reiner
1987
Pirates
( Piratas / Piraten )
Roman Polanski
1986
Les Goonies
( The Goonies )
Richard Donner
1985
L'Ile au Trésor
( Treasure Island )
Raoul Ruiz
1985
Le Vagabond des mers
( The Master of Ballantrae )
(remake de 1953)
1984
Le Bounty
( The Bounty )
Roger Donaldson (remake de 1933)
1984
Les Guerriers des étoiles
( The Ice Pirates )
Stewart Raffill
1984
Le Marin des mers de Chine
( 'A' gai waak )
Jackie Chan
1983
Barbe d'or et les pirates
( Yellowbeard )
Mel Damski
1983
Les Pirates des Îles Sauvages
( Nate and Hayes / Savage Island )
Ferdinand Fairfax
1983
Pirate Movie
Ken Annakin
1983
The Pirates of Penzance
( The Slave of Duty, I pirati di Penzance, O Rei dos Piratas )
W.S. Gilbert et Arthur Sullivan
1983
Pirate Movie
( The Pirate Movie )
Ken Annakin
1982
L'île Sanglante
( The Island )
Michael Ritchie
1980
The Fog
John Carpenter
1979
Captain Lust
( Captain Lust and the Pirate Women
The Amorous Contessa
The Pirate Women ) (X)
Beau Buchanan
1977
Le Corsaire Noir
Sergio Sollima
1976
Le Pirate des Caraïbes
( Swashbuckler )
James Goldstone
1976
Pirates et guerriers
( The Valiant Ones )
King Hu
1975
Le monde des morts-vivants
( - El buque maldito
- Das Geisterschiff der reitenden Leichen
- Ship of Zombies
- The Ghost Galleon
- Zombie Flesh Eater )
Amando de Ossorio
1974 (Allemagne), 1978 (France)
L'Ile au Trésor
John Hough
1973
Le Pirate
( Da hai dao )
Cheh Chang, Hsueh Li Pao, Ma Wu
1973
Deux loustics en bordée
( - Il Corsaro nero
- Blackie the Pirate
- El Corsario Negro )
Lorenzo Gicca Palli
1971
Le Phare du bout du monde
( The Light at the edge of the world )
Kevin Billington
1971
Les Joyeux pirates de l'île au trésor
Minori Yamanashi
1971
Le Corsaire des 7 mers
( El Corsario )
Antonio Mollica
1970
Fifi Brindacier chez les Pirates
( - Pippi in the South Seas
- Pippi Långstrump på de sju haven )
Olle Hellbom
1970
Le Fantôme de Barbe-Noire
( Blackbeard's Ghost )
Robert Stevenson
1968
Peyrol le boucanier
( L'Avventuriero )
Terence Young
1967
Le Pirate du Roi
( The King's Pirate )
Don Weiss
1967
Indomptable Angélique
Bernard Borderie
1967
Le Retour de Surcouf
( - Tonnerre sur l'Océan Indien
- La vengeance de Surcouf
- Grande colpo di Surcouf, Il
- The Big Hit of Surcouf )
Sergio Bergonzelli, Roy Rowland
1966
Samson contre le Corsaire Noir
Luigi Capuano
1965
L'Avventuriero della tortuga
( - Adventurer of Tortuga
- Cold Steel for Tortuga )
Luigi Capuano
1965
Surcouf, le Tigre des Sept Mers
( - Surcouf, l'eroe dei sette mari
- The Sea Pirate )
Sergio Bergonzelli, Roy Rowland
1965
Le Flibustier des Caraïbes
Luigi Capuano
1965
Toto vs. the Black Pirate
( Totò contro il pirata nero )
Fernando Cerchio
1964
L'Uomo mascherato contro i pirati
( - Il Corsaro nero nell'isola del tesoro
- The Masked Man Against the Pirates
- The Black Pirate )
Vertunnio De Angelis
1964
Un Cyclone à la Jamaïque
( A High Wind in Jamaïca )
Alexander Mackendrick
1964
Les Pirates du Diable
( The Devil-ship Pirates )
Don Sharp
1964
Les Pirates de Malaisie
( - I Pirati della Malesia
- Pirates of the Seven Seas )
Umberto Lenzi
1964
L'île aux filles perdues
( Le Prigioniere dell'isola del diavolo )
Domenico Paolella
1963
Sandokan - Le Tigre de Bornéo
( - Sandokan, la tigre di Mompracem
- Sandokan the Great )
Umberto Lenzi
1963
Le Pirate du Diable
( - Il pirata del Diavolo
- The Saracens )
Roberto Mauri
1963
Le Tigre des Mers
Luigi Capuano
1963
Le Secret de l'épervier noir
( Il segreto dello sparviero nero )
Domenico Paolella
1962
Le Fascinant capitaine Clegg
( Night Creatures )
Peter Graham Scott
1962
Le Corsaire de la Reine
( - Il Dominatore dei sette mari
- Seven Seas to Calais )
Rudolph Maté
1962
Le Fils du Capitaine Blood
( il figlio del capitano blood )
Tulio Demicheli
1962
L'Attaque du San Cristobal
( The Pirates of blood river )
John Gilling
1962
La Terreur des mers
( - Il terrore dei mari
- Guns of the Black Witch )
Paolella Domenico
1961
Il Etait Trois Flibustiers
( I moschettieri del mare
- Musketeers of the Sea )
Steno
1961
Les Révoltées de l'Albatros
( L'Ammutinammento )
Silvio Amadio
1961
Les Voiles Ecarlates
( - Алые паруса
- Alie Parusa )
Alexandre Ptouchko
1961
Les Aventures de Mary Read
( Mary la Rousse, femme pirate )
Umberto Lenzi
1961
Les Revoltes du Bounty
( Mutiny on the Bounty )
Lewis Milestone (remake de 1933)
1961
Les Pirates de La Tortue
( Pirates of Tortuga )
Robert D. Webb
1961
Le Boucanier des iles
( Il Giustiziere dei Mari )
Domenico Paolella
1961
Robin des Bois et les pirates
( Robin Hood e i pirati )
Giorgio Simonelli
1961
Gordon, le Chevalier des Mers
( Gordon, il pirata nero
- Rage of the Buccaneers )
Mario Costa
1961
Les Pirates de la nuit
( Fury at Smuggler's Bay )
John Gilling
1961
Jules Cesar Contre Les Pirates
( - Caesar against the Pirates
- Giulio Cesare contro i pirati )
Sergio Grieco
1960
Les Pirates de la côte
( I Pirati della Costa )
Paolella Domenico
1960
Les Boucaniers des Caraïbes
( - Los Corsarios del Caribe
- Il Conquistatore di Maracaibo )
Eugenio Martin
1960
Capitaine Morgan
( Morgan, il Pirata )
André de Toth
1960
The Boy and The Pirates
Bert I. Gordon
1960
La Reine des pirates
( - Queen of the Pirates
- La Venere Dei Pirati )
Mario Costa
1960
Les Robinsons des mers du sud
( The Swiss Family Robinson )
Ken Annakin
1960
Marie des Isles
( I Filibustieri della Martinica )
Georges Combret
1959
La Vengeance du Sarrasin
( - La Scimitarra del Saraceno
- The Pirate and the Slave Girl )
Piero Pierotti
1959
Le Fils du Corsaire Rouge
( - Il Figlio de Corsare rosso
- Son of the Red Corsair )
Primo Zeglio
1958
Le Pirate de l'Epervier Noir
( - Il Pirata dello sparviero nero
- Pirate of the Black Hawk )
Sergio Grieco
1958
Les Boucaniers
( The Buccaneer )
Anthony Quinn (remake de 1938)
1958
La Bigorne, caporal de France
( - The Amorous Corporal
- Bigorne, o atromitos lohias
- Piraten von Madagaskar )
Robert Darène
1958
La Belle et le corsaire
( - Il Corsaro della mezzaluna
- Pirate of the Half Moon )
Giuseppe Maria Scotese
1957
The Pirates of Tripoli
Félix E. Feist
1955
Les Contrebandiers de Moonfleet
( Moonfleet )
Fritz Lang
1955
La Fille du Corsaire noir
( Jolanda, la figlia del corsaro nero )
Mario Soldati
1954
Le Capitaine Kidd et la belle captive
( Captain Kidd and the slave girl )
Lew Landers
1954
Long John Silver
Byron Haskin
1954
The Black Pirates
Allen H. Miner
1954
Les Bagnards de Botany Bay
( Botany Bay )
John Farrow
1953
La Belle Espionne
( Sea Devils )
Raoul Walsh
1953
Le Pirate des Sept Mers
( Raiders of the Seven Seas )
Sidney Salkow
1953
Le Roi Pirate
( Prince of Pirates )
Sidney Salkow
1953
Les Aventures de Peter Pan
( Peter Pan )
Hamilton Luske, Clyde Geronimi, Wilfred Jackson
1953
Le Vagabond des mers
( The Master of Ballantrae )
William Keighley
1953
Port Sinister
-
1953
Les Trois Corsaires
( I Tre corsari )
Mario Soldati
1952
Barbe Noire le Pirate
( Blackbeard The Pirate )
Raoul Walsh
1952
Le Corsaire Rouge
( The Crimson pirate )
Robert Siodmak
1952
Les Joyeux pirates
( Abbott et Costello rencontrent Captain Kidd
- Abbott and Costello meet Captain Kidd )
Charles Lamont
1952
A l'abordage
( - L'Aigle de Madagascar
- Against All Flags )
Georges Sherman
1952
Les Boucaniers de la Jamaîque
( Yankee Buccaneer )
Frederick De Cordova
1952
Captain Pirate
Ralph Murphy
1952
Le Trésor des Caraïbes
( Caribbean )
Edward Ludwig
1952
The Golden Hawk
Sidney Salkow
1952
Les Aventures de Robinson Crusoé
( The Adventures of Robinson Crusoe )
Luis Buñuel
1952
Les Evasions Du Capitaine Blood
( Captain Pirate )
Ralph Murphy
1951
La Vengeance du Corsaire
( - La vendetta del corsaro
- The pirates revenge
- Revenge of the pirates )
Primo Zeglio
1951
La Flibustière des Antilles
( Anne of the Indies )
Jacques Tourneur
1951
Capitaine sans peur
( Captain Horatio Hornblower )
Raoul Walsh
1951
Adventures of Captain Fabian
William Marshall, Robert Florey
1951
Le Joyeux corsaire
( Double Crossbones )
Charles Barton
1950
Jean Lafitte Dernier Des Corsaires
Lew Landers
1950
Double Croosbones
Charles T. Barton
1950
L'Ile au Tresor
( Treasure Island )
Byron Haskin
1950
La fille des boucaniers
( Buccaneer's Girl )
Frederick De Cordova
1950
Jean Laffitte, le dernier Corsaire
( Last of the Buccaneers )
Lew Landers
1950
Les Nouvelles aventures du Capitaine Blood
( Fortunes of Captain Blood )
Gordon Douglas
1950
Barbary Pirate
Lew Landers
1949
Le Pirate de Capri
- I Pirati Di Capri
- Captain Sirocco
- The Masked Pirate
- Pirates of Capri )
Giuseppe Maria Scotese, Edgar G. Ulmer
1948
Le Pirate
( The Pirate )
Vincente Minnelli
1947
Sinbad le marin
( Sinbad the Sailor )
Richard Wallace
1947
Three Little Pirates
Edward Bernds
1946
Pavillon noir
( The Spanish Main )
Frank Borzage
1945
Captain Kidd
Rowland V. Lee
1945
El Corsario Negro
( - The Black Pirate
- The Black Privateer )
Chano Urueta
1944
L'aventure vient de la mer
( Frenchman's Creek )
Mitchell Leisen
1944
La Princesse et le pirate
( The Princess and the Pirate )
David Butler
1944
Les Naufrageurs des mers du sud
( Reap the Wild Wind )
Cecil Blount DeMille
1942
Le Cygne noir
( The Black Swan )
Henry King
1942
I Pirati della Malesia
( Pirates of Malaya )
Enrico Guazzoni
1941
L'Aigle des mers
( The Sea Hawk )
Michael Curtiz
1940
Les Flibustiers
( The buccaneers )
Cecil B. De Mille
1938
Captain Kidd's Treasure
Leslie Fenton
1938
Mollenard, capitaine corsaire
Robert Siodmak
1937
L'Invincible Armada
( Fire Over England )
William K. Howard
1937
L'il Ol'Bosko and the Pirates
Hugh Harman
1937
Le Danseur Pirate
( Dancing Pirate )
Lloyd Corrigan
1936
Drake of England
( - Drake the Pirate
- Drake il corsaro
- Elizabeth of England
- O kataktitis ton thalasson )

Arthur B. Woods
1935
La Malle de Singapour
( China Seas )
Tay Garnett
1935
Les Révoltés du Bounty
( Mutiny of The Bounty )
Frank Lloyd (remake de 1933)
1935
Le Capitaine Blood
( Captain Blood )
Michael Curtiz
1935
Pirate Treasure
Ray Taylor
1934
l'Île au Trésor
( Treasure Island )
Victor Fleming, Clyde De Vinna, Ray June, Harold Rosson
1934
In the Wake of the Bounty
Charles Chauvel
1933
The Beloved Rogue
Alan Crosland
1927
Breed of the Sea
Ralph Ince
1926
Old Ironsides
James Cruze
1926
Le Corsaire masqué
( The Eagle of the Sea )
F. Lloyd
1926
Le Pirate Noir
( The Black Pirate )
Albert Parker et Douglas Fairbanks
1926
Le Corsaire aux jambes molles
( Clothes Make the Pirate )
Maurice Tourneur
1925
Peter Pan
Herbert Brenon
1924
Captain Blood
David Smith
1924
l'Aigle des mers
( The Sea Hawk )
Frank Lloyd
1924
Le Fils du Flibustier
Louis Feuillade
1922
La Fille du Pirate
( Hurricane's Gal )
Allen Holubar
1922
L'Île au trésor
Maurice Tourneur
1920
Captain Kidd Junior
Rida Johnson Young
1919
Störtebeker
Ernst Wendt
1919
Such a Little Pirate
George Melford
1918
Peg of the Pirates
O.A.C. Lund
1918
A Pirate Bold
Robert Dillon
1917
The Little Pirate
Elsie Jane Wilson
1917
Daphne and the Pirate
Christy Cabanne
1916
Picture Pirates
(inconnu)
1916
Fille de Pirates
( The Wishing Ring, an Idyll of Old England )
Maurice Tourneur
1914
Pirate Gold
1913
Drake's Love Story
( The Love Romance of Sir Francis Drake )
Hay Plumb
1913
Buster and the Pirates
Charles H. France
1912
Blackbeard
Francis Boggs
1911
Le secret du Corsaire Rouge
Louis Feuillade
1910
Morgan le pirate - Episode 3: L'épave
Victorin-Hippolyte Jasset
1910
Morgan le pirate - Episode 2: La Prophétie
Victorin-Hippolyte Jasset
1909
Morgan le pirate - Episode 1: Pirates et boucaniers
( la cage )
Victorin-Hippolyte Jasset
1909
L'Or du Pirate
( The Pirate's Gold )
David Llewelyn, Wark Griffith
1908
The Pirate's Treasure
( A Sailor's Love Story )
(inconnu)
1907
The Pirate Ship
Lewin Fitzhamon
1906
The Pirates
( - The Buccaneers
- Shanghaied by Pirates )
1904
Les prochains films de pirates à sortir au cinéma
Certains de ces films sont également des projets qui ne verront peut être jamais le jour.
L'île au trésor
Film canadien.
Réalisateur, Scénariste, Producteur : Dean Deblois
Date de sortie : 2022.
Genre : animation.
Durée : -
L'histoire : Le jeune Jim Hawkins suit le vieux pirate Long John Silver dans sa quête du trésor du capitaine Flint. Une nouvelle adaptation du classique de Robert L. Stevenson.
Space Pirates
Réalisateur, Scénariste, Producteur : ?
Date de sortie : projet.
Genre : animation / fantaisie.
Durée : -
Curse of Pirate's Cove
Réalisateur, Scénariste, Producteur : Walker Haynes
Date de sortie : projet.
Genre : aventure / famille.
Durée : -
The Modern Ocean
Film américain réalisé par Shane Carruth.
Acteurs probables : Keanu Reeves, Anne Hathaway, Daniel Radcliffe, Jeff Goldblum, Chloe Grace Moretz, Tom Holland, Asa Butterfield et Abraham Attah...
Date de sortie indéterminée.
Genre : indéterminé.
Durée : -
Rumeur de l'histoire :
Encore mystérieux, The Modern Ocean suivra les destins de plusieurs personnages qui s'affrontent en mer, à propos des routes de commerce, d'un mystérieux butin et d'un besoin de vengeance. Un récit qui s'étalera de l'Algérie aux profondeurs de l'océan, avec des navires monstrueux et une technologie mystérieuse.
Republic of Pirates (titre provisoire)
Série américaine qui sera produit par Parkes, MacDonald, Gold et Tom Fontana, co-écrit par Jim Hart et Amanda Wells, d'après l'oeuvre de Colin Woodard.
Acteurs : -
Date de sortie : indéterminée
Genre : histoire vraie, drame, aventure, action
Durée : -
Sujet :
L'histoire de la création de New Providence, le premier Etat entièrement construit par les pirates au XVIIIème siècle.
(titre indéterminé)
Film français qui sera réalisé par Jacques Perrin.
Date de sortie : indéterminée
Genre : -
Durée : -
Sujet : Les pirates d'aujourd'hui en Somalie
Pirates Latitudes
Film américain qui sera réalisé par Steven Spielberg. Ecrit par David Koepp, basé sur la nouvelle de Michael Crichton
Date de sortie : indéterminée
Genre : Aventure.
Durée : 2h00
L'action se déroule en 1665. Un trésor est dissimulé dans un bâteau espagnol, qui vogue en Jamaïque. Un trésor qui suscite bien des convoitises, notamment de la part de pirates.
Barbe Noire ( Blackbeard )
Film américain qui sera réalisé par Pat Croce et Barry Josephson, écrit par David Franzoni. La production n'est pas encore décidée de qui sera le réalisateur.
Date de sortie : indéterminée
Genre : Biographie.
Durée : -
La musique devrait être signée John Powell ("La mort dans la peau").
The Return of Captain Kidd
Film américain qui sera réalisé par Kern Konwiser avec Christopher Lloyd ("Doc Brown" dans Retour vers le Futur), Jimmy Bennett, Connor Price, Steve Coogan
Date de sortie : indéterminée
Genre : Aventure fantastique.
Autre titre : Blackbeard
Durée : -
Synopsis :
Deux jeunes frères, Cole (10 ans) et Tyler (12 ans), tombent nez à nez avec le fantôme du plus célèbre pirate Barbe-Noire lors d'un voyage scolaire dans un musée sur la piraterie maritime.
Au début, les garçons adorent leur idole pirate, mais lorsque ce dernier dévoile ses plans machiavéliques, Cole et Tyler doivent trouver un moyen de le renvoyer Barbe-Noire dans sa tombe avant qu'il ne soit trop tard!
La visite se transforme en une aventure au-delà des fantasmes les plus fous de Cole et Tyler.
Part-Time Pirates
Film américain réalisé par Frank Coraci.
Date de sortie : indéterminée
Genre : Aventure, Comédie.
Durée : -
Synopsis :
Un groupe d'ouvriers décident de se libérer de leur routine en prenant le large en haute mer avec le yacht de leur ancien patron, un homme cupide. A travers ce voyage, ils retrouvent leur virilité en devenant des pirates modernes.
Captain Blood
Film britannique et australien réalisé par Phillip Noyce.
Date de sortie : indéterminée
Genre : Aventure.
Durée : -
Remake de Captain Blood en 1935.
Synopsis :
Un médecin est injustement condamné à l'esclavage et envoyé en Jamaïque. Là-bas, il se rebelle avec d'autres prisonniers : ils s'emparent d'un bateau et deviennent pirates.

Projet de film sur Barbe Noire annulé !
Des rumeurs couraient qu'un film sur Barbe Noire allait être réalisé avec Kevin Costner qui devait retrouver Kevin Reynolds, le réalisateur qu'il avait renvoyé du tournage de "Waterworld". ils avaient prévus depuis longtemps de travailler ensemble sur un film de pirates nommé OCRA COKE.
Les deux hommes étaient à la recherche de financement pour produire le film, qui était évalué à 80 millions $US.
Le film de pirates raconte l'histoire de Robert Maynard, un officier naval britannique disgracié qui s'était racheté en capturant le célèbre Barbe Noire dans la bataille de Ocra Coke, une île au large de la Caroline du Nord.
Barbe Noire
Le nom de Barbe Noire est presque devenu synonyme de pirate. Il aura un rôle sympa dans un seul film, et pour cause, un film de Walt Disney ! "Le fantôme de Barbe Noire", dans lequel ce forban devint hautement sympathique !